What salient attribute do chief executive officers have in common? It boils down to one personality trait.
They're optimistic about life – more so than the average person. That's the conclusion from an authoritative study, "Managerial Attitudes and Corporate Actions," in the Journal of Financial Economics. 
The report on 3,000 personality test responses was co-authored by John Graham, Campbell Harvey and Manju Puri at Duke University's Fuqua School of Business.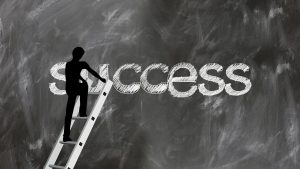 "Finance executives go so far as to say that their CEOs are more optimistic about almost everything in life," says study co-author, finance Professor Puri, "even beyond their outlook on business prospects."
For them, climbing the ladder is a comparative breeze.
Not surprisingly, CEOs were found to be happy about their business prospects and more disposed to risk-taking.
Such traits sway the financial decisions and policies of their companies.
"The executives are a vastly different breed than the average person," says international business Professor Campbell Harvey.
CFO vs. CEO personalities
Researchers labeled 80 percent of CEOs "very optimistic."
By comparison, only 65 percent of chief financial officers are considerably optimistic. That's probably because CFOs spend their days crunching numbers and dealing with cash-flow issues.
Not surprisingly, CEOs were found to be happy about their business prospects and more disposed to risk-taking.
CEOs tend to be recruited by companies with a similar "personality."
Not surprisingly, the personalities of the CEOs and their companies are closely linked, including their outlooks on risk and finance.
About CEO personalities, finance Professor Graham says "they are more content to 'roll the dice,'" on mergers and acquisitions. 
Pay structure
CEO personality attributes are also reflected in how they're paid. Risk-takers most often are paid in bonuses, options, and stock – not quite as much in salary. 
As for the CEO-salary costs to companies, it costs them more to hire CEOs who are risk averse. CEOs who are more patient take more in salary.
Conclusion: The study's conclusion is consistent with my experience in dealing with CEO clients. It's been a pleasure to work with them as they see every challenge as an opportunity for growth.
From the Coach's Corner, related articles:
Key Differences between Leaders and Managers — It's possible for a run-of-the-mill manager to become a leader in management   Published reports in Google News are an eye-opener. If you Google "leadership crisis," you'll get at least 9,000 search results for business and the public sector. If you enter the key words, "management crisis," you'll probably see twice the results.
7 Tips for a Young Professional to Become a CEO — For a professional to jump to the senior-management level in the 21st century, it's imperative to demonstrate seven core competencies. Consider them part of your personal branding for success. It starts with speaking the language of a chief executive officer, and understanding the big-picture needs of an organization to get to the top.
Career Strategies: How to Get a C-Level Job — If you're climbing the corporate ladder and have designs on a C-level job, a noted Stanford University professor has some excellent advice.
8 Best Practices in Employee Delegation— Avoid frustration in delegation. Save yourself time and develop your staff for the welfare of your organization.   Delegation is a fundamental driver of organizational growth. Managers who are effective in delegation show leadership. They know they'll be more effective in management and that they'll develop their employees.
18 Tips for Productive Behavior to Win in Office Politics — Most people troubled by office politics are too focused on the behavior of their adversaries. Stop giving away your personal power. Don't think or act like a victim. 
"Pessimism leads to weakness, optimism to power."
-William James
__________
Author Terry Corbell has written innumerable online business-enhancement articles, and is also a business-performance consultant and profit professional.

Click here to see his management services

. For a complimentary chat about your business situation or to schedule him as a speaker, consultant or author, please

contact Terry

.