If you're climbing the corporate ladder and have designs on the C-suite – CEO, COO, or CFO – a Stanford University professor has some excellent advice.
In essence, he advises getting a strong, generalist-background in business.
"The higher you get in an organization, the more likely you are to encounter problems from a variety of different areas," says Stanford Graduate School of Business labor economist, Edward P. Lazear, Ph.D.
He believes it's important to be a generalist, especially for professionals wanting to become a CEO because of the broad issues the job entails.
Dr. Lazear contends "those people have to be generalists" according to Stanford GSB News in its September 2010 newsletter.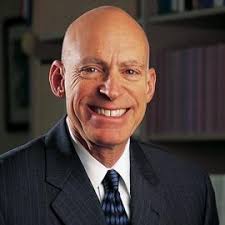 Professor Edward Lazear
The economist has won numerous honors, and written 11 books and more than 100 articles. He was an economic advisor to President George W. Bush, and was chair of the Council of Economic Advisors from 2006 to 2009.
He's also counseled the governments of Czechoslovakia, Romania, Russia, Ukraine, and Georgia.
"A good CEO is someone who's very good, possibly not excellent, but very good, at almost everything," he asserts.
"People who are most likely to end up in leadership positions are ones who have had many different roles throughout their career," explains Dr. Lazear.
He points out that successful companies make it a practice to give various jobs to talented employees to groom them for leadership.
In other words, the broader the skills –the more desirable a person is for the CEO's role.
No. 1 needed skill
A salient skill: The CEOs ability to hire the right people to fill the senior executive's gaps in knowledge or experience is very important.
CEOs must understand enough about the company's needs in any given area to evaluate, recruit and hire talent.
… it's important to be a generalist, especially for professionals wanting to become a CEO because of the broad issues the job entails.
"Putting together a team is a generalist's skill. 'Just hiring someone' is not so easy," says the economist. He believes specific highly visible jobs, such as banking, high-level finance or marketing, are great catalysts leading to the C-suite.
Dr. Lazear says jobs in "publicly observed decision-making situations" puts ambitious people in the right environment at the right time so that others can watch them in action. He believes it's inevitable that others will become followers as the leader is born.
But he has a warning for an ambitious person – don't just go through the motions – don't assume that a variety of jobs or working in a marketing job is enough.
He suggests something akin to physical training for the Olympics – increase your strong points in multiple areas so "you can enhance your probability of going into leadership."
Excellent advice to which I'd add: In everything you do, do it with enthusiasm with a positive outlook.
From the Coach's Corner, here is additional reading:
7 Tips for a Young Professional to Become a CEO — For a professional to jump to the senior-management level in the 21st century, it's imperative to demonstrate seven core competencies. Consider them part of your personal branding for success. It starts with speaking the language of a chief executive officer, and understanding the big-picture needs of an organization to get to the top. It requires a positive personality. No, it isn't necessary to perform at a Ph.D. level in all the competencies, but it's important to excel in them.
18 Leadership Strategies to Earn Employee Respect — Even though Wall Street gets ecstatic over productivity growth, merely slashing costs and jobs to create profit is not sustainable for profits. Investors mistakenly believe the earnings for such publicly held companies are good, but it will not last. Workers are realizing they're not sharing in the wealth. Poor morale will cause profits to plummet, and consumer demand will continue to plunge.
Key Differences between Leaders and Managers — It's possible for a run-of-the-mill manager to become a leader in management   Published reports in Google News are an eye-opener. If you Google "leadership crisis," you'll get at least 9,000 search results for business and the public sector. If you enter the key words, "management crisis," you'll probably see twice the results.
5 Personality Traits Why Managers Are Promoted into Leadership — In selecting candidates for leadership, the risks can be great for both the company and managers in lost time, effort and money. So when deciding which of their corporate managers should be promoted into a leadership positions, naturally, companies don't want any surprises. Among the distinguishing personality traits, companies prefer to promote managers who demonstrate abilities in strategic vision and planning.
7 Thought Leadership Tactics for Strong Performance — For a company to achieve strong performance, its culture and employees must be aligned with business strategy to provide value. But more and more, it seems employees can't even articulate business strategy. Therefore, management must identify and communicate effective programs that are aligned with employee behavior in order to blaze new paths and fuel business growth.
"Leadership is the art of getting someone else to do something you want done because he wants to do it."
-Dwight D. Eisenhower 
__________
Author Terry Corbell has written innumerable online business-enhancement articles, and is a business-performance consultant and profit professional.

Click here to see his management services

. For a complimentary chat about your business situation or to schedule him as a speaker, consultant or author, please 

contact Terry

.