Vehicle breakdowns can inconvenience any anyone – from weak batteries to flat tires.
Freezing winter temperatures and scorching summer heat more readily wear out batteries, belts, hoses and tires.
Such emergencies can cause extra stress both emotionally and in preventable expenses.
Unfortunately, AAA expected to rescue 7 million U.S. motorists, according to its 2017 survey.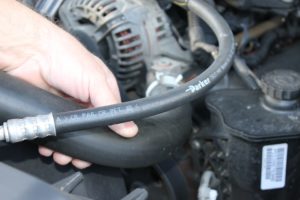 The company's survey shows 40 percent of American drivers do not adequately prepare for road emergencies.
AAA's survey also indicates about 75 percent of families plan car trips for vacations.
Three main reasons AAA members call for help: Dead batteries, flat tires and vehicle lockouts.
Many late-model cars have issues because of low-profile tires or the elimination of spare tires altogether.
Other problems require another 3 million members to have their vehicles towed to a repair shop.
But AAA's survey shows 66 percent of drivers have never had their batteries tested. Twenty percent don't know how to change a tire. Forty percent don't have emergency roadside kits.
To help prevent the likelihood of roadside emergencies, here are AAA's reminders:
1. Vehicle checkup
Get a checkup and any needed maintenance before any trips. For minimum precautions, you can minimize risks with battery tests, fluid-level checks, and oil changes.
2. Buy an emergency kit
Your emergency kit should include:
— Adjustable wrench
— Cellphone with car charger
— Drinking water
— Emergency flares or reflectors
— Extra snacks for passengers
— Extra food for pets
— First-aid kit
— Flashlight with extra batteries
— Jumper cable
— Tire pressure gauge
— Windshield wiper solution
The company's survey shows 40 percent of American drivers do not adequately prepare for road emergencies.
3. Prevent being locked out
When you leave your vehicle, always take your keys. Always have a spare key with you.
Don't allow water to touch your keyless-entry remote or smart key. Replace the key or fob battery when recommended by your vehicle manufacturer.
4. Be absolutely distraction-free
You'll avoid an expensive ticket and you'll be safer while driving if you don't text, talk on your cellphone, and avoid long glances at objects in your car or off the road.
Even eating food or drinking liquids while driving will get you a ticket in some states.
5. Move over
All states have a move-over law when emergency or law-enforcement vehicles are on the side of the road. Slow down and change lanes if possible.
6. Pull off the road in a breakdown
If you encounter an emergency, turn on your emergency flashers and safely steer your vehicle off the road – to the right, if at all possible. Exit your car on the side away from traffic.
When everyone is in a safe situation, fix what you can or request roadside assistance from a provider. Some car manufacturers and other insurance companies also provide assistance.
In addition, I'd add this reminder: Always keep your gas tank half full. For instance, unless you use your cellphone traffic apps, you'll not always be able to anticipate when you'll be stuck in traffic congestion.
Finally, if you have AAA, download the free mobile app for Android, Apple Watch, iPad or iPhone. You'll be able to track the the location of the assigned emergency-service vehicle in real time.
Aside from emergency assistance, the app also will help you book a hotel room, find the most-inexpensive gas prices, route a trip, or access other member discounts.
(Disclosure: Despite my preventative measures, I too, have had occasional roadside issues. I am a satisfied AAA customer using its mobile app myself but I do not get compensation for this article. I'm only writing this article to save you possible grief as a Biz Coach reader.)
From the Coach's Corner, here are related tips:
16 Gas-Saving Tips for your Personal or Business Driving — If you want to cut costs, you might want to start with fuel.
Finance Your Vacation with Credit Card Travel Reward Points — If you plan well, you can finance most of your family's vacation with travel reward points. The trick is to learn all the ways you can earn points. This entails far more than just buying airline tickets or reserving a hotel room.
6 Top Tips for Etiquette in Business Travel — If you're into people-watching, the airport is an entertaining place to be. You'll see all kinds of personalities. That's especially true for the wide variety of business travelers. For successful trips, business travelers share one common trait. They need to be mindful of business etiquette.
13 Great Business Travel Tips — Jet lag, bad hotel beds, and lost luggage – just a few of the miseries of business travel. But travel is vital to manage operations, close sales and to build relationships.
Tips to Prevent Hacking of Your Bluetooth — Bluetooth technology, of course, allows you freedom when talking on your cell phone. But you could lose some of this freedom from "bluebugging."
11 Travel Tips – Save Money, Prevent against Cyber Theft, Fraud — The most vulnerable travelers are businesspeople. That's because they have to use Internet and e-mail. They're in danger expressly from vulnerabilities, such as from wirelessly accessible passports to using WIFI.
Winter Security Tips for Your Transport Facility and Drivers — Criminals don't hibernate like bears in the winter. Winter presents opportunities for criminals' unscrupulous desires. To protect your products in the warehouse or distribution facilities and drivers on the road in snowy months, there are several important precautions to implement.
"Baseball is like driving, it's the one who gets home safely that counts."
-Tommy Lasorda
 __________
Author Terry Corbell has written innumerable online business-enhancement articles, and is a business-performance consultant and profit professional. Click here to see his management services. For a complimentary chat about your business situation or to schedule him as a speaker, consultant or author, please 

contact Terry

.