Do you want to target tourists visiting your community or region?
Whether you operate a seasonal or year-round business, you need to consider six elements before deciding on your marketing tactics.
It addition to traditional marketing tactics, the Digital Age has opened up so many options in email marketing, online advertising, remarketing, search engine optimization and in Web sites.
But for a good return on your marketing investment, you must use the right approaches and budget to interact with the most profitable customers.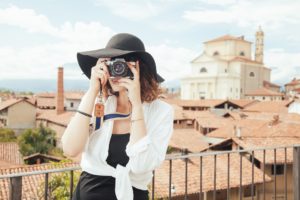 Start thinking about a new marketing philosophy:
1. Determine the ideal profiles of customers you want to attract
Eighteen percent of customers will only buy at the cheapest price. It's best to ignore them.
They're most likely to complain for extraneous reasons, complain to their friends and relatives, and won't be repeat customers.
Go after the other 82 percent of prospective customers who are the most profitable prospects.
Identify your ideal customers demographically such as age brackets, income levels and geographic locations.
Then identify your best-potential Centers of Influence – people or organizations that can influence the right customers to patronize your business.
Work with any possible trade partners and partner with related tourism businesses to attain your goals.
2. Identify the tactics that are most likely to result in trust by consumers
The best advertising is actually word-of-mouth. Assuming the content is trustworthy, the second most-effective marketing is available on well-branded Web sites.
That includes news-media sites in the form of articles and advertising. Advertising, or newsletters and emails from other credible sites garner trust, as well.
Note: Your strong local news sites can be a big help. As much as 50 percent of your local sites' visitors actually are non-local residents from elsewhere.
Be sure to upgrade your content marketing strategies on all your social media.
And increasingly, it's important for you to have a customer-focused site with a user-friendly mobile site. Both have to act as a business development manager.
Make sure you and your staff are ready internally. You have to manage your customer's to develop a strategic customer relationship. Review with your personnel etiquette and customer-service practices.
3. Plan and use strategies to connect with your best prospects before they plan their visits
If your marketing is designed to connect with people once they arrive in your town, you've already lost your sales opportunities.
Connect with them in their planning phases. They're checking with friends and relatives, online reviews, Internet articles and blogs, testimonials, newsletters and social media.
Before telling your story, you need to anticipate the questions your prospects are likely to ask. Then, you must create the right content for the right channels.
4. Focus on attracting repeat business
Customers who become fans will be loyal. That includes local residents who patronize your business, and is why a customer-relationship management-program is vital.
It's far more profitable if you keep customers happy for repeat business than it is starting from scratch to attract new customers.
5. Strategies to use the two basic types of marketing
— Earned marketing, which is actually tourism publicity for which you don't pay:
Mentions
Reposts
Shares
Online reviews (e.g. Yelp and Expedia)
Press releases and resulting news coverage
Post daily on social channels
Monitor media social channels
Mention media in posts
Your social media pages
Your website/mobile site
Your blogging site
Your apps
Your newsletter
Check for search-engine errors, such as including Google Places
Make sure your site is No. 1 in your keywords' niches
— Unearned marketing, that's marketing for which you pay:
Traditional Ads (print, radio and TV)
Online ads (banner, display, adwords)
Social media ads
Paid content (native advertising)
6. Make certain your marketing is a profit center, not a cost center
Continue to monitor your progress.
You must know the right activities that will lead to sales. Develop metrics for tracking your progress and successes. It's imperative for you to be able to measure the results of your marketing initiatives.
This, of course, means starting with the right marketing budget.
From the Coach's Corner, here are related sources to explain the above points:
Marketing Not Working? 14 Important Reasons Why Marketing Fails — There are many reasons for the failure of a marketing campaign. Here are 14 of the more important reasons.
Best Practices to Manage Your Global Brand, Web Reputation — As you no doubt know, the digital age has brought new challenges and opportunities. Best practices are critical in order to maximize your Web presence and to manage your online reputation.
14 Tips to Profit from Online Customer Reviews — For competitiveness and profits, businesses can't afford to ignore the potential of online reviews. They're a factor in revolutionizing commerce.
Are You Attacked by Bad or Bogus Reviews? 5 Tips to Respond — Certainly you only want positive customer reviews. Internet-savvy shoppers read reviews to make buying decisions. Reviews can make or break you.
8 Tips for Your Social Media to Work Well in E-commerce — Are you just starting out using social media? Well, if used well, social media is an excellent tool to accomplish two goals – connecting with your existing customers and attracting fans for new business.
For More Sales, 8 Vital Mobile Marketing Tips — Put your brand where prospects and customers are likely to see it. That means leveraging mobile marketing.
8 Strategies to Enhance Your Customer Service Image — Poor customer service is a salient reason why consumers aren't loyal to businesses. True, today's consumers are very demanding. It's worth noting they're demanding because they constantly encounter poor customer service.
For a Bounce in Revenue, Try Strategic Press Releases — Ever wonder why some companies are always in the news or how they succeed on the Internet? It's a good bet they have a good PR consultant or have mastered the art of writing press releases. You, too, can level the playing field with effective press releases.
"If you aren't a little different than your competition, you're in trouble."
-Mark Sanborn
__________
Author Terry Corbell has written innumerable online business-enhancement articles, and is a business-performance consultant and profit professional. Click here to see his management services. For a complimentary chat about your business situation or to schedule him as a speaker, consultant or author, please contact Terry.