Tips for consultants and financial advisors to communicate with current and prospective clients in money matters


Whether you're a consultant or financial advisor communicating with clients, you'll be better off using phrases or words that focus on them – not their business or your needs.
Use proper decorum when talking or writing to them as high net-worth or otherwise successful people.
You must use jargon or language that best relates to your clients. That means making references to your clients' needs, not their business nor your firm's needs.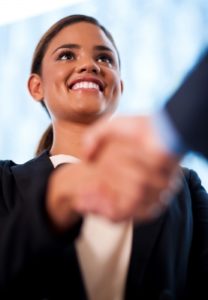 Here are proven ways to best-communicate with them:
1. Always consider opportunities to compliment your clients
Look for ways to honestly and authentically congratulate your clients. It especially works to compliment them on their employees.
2. Diplomatically train clients to accept your recommendations
Successful businesspeople are usually independent-minded.
Such people don't like any appearance of condescending advice. Use a conservative approach.
Train your clients to accept your recommendations.
Start with any new authentic praise then follow with a phrase such as "You might wish to consider…"
3. Use the right phrasing
Don't use gauche statements such as, "If you want to go to the next level, hire us." Don't focus on you.
Instead say something like, "You've paid your dues and worked hard for your money. Why don't we consider ways to make your money work for you."
4. Never use the word, product
Create a happy buying environment. Clients want your personalized service, not your products.
Unfortunately, by using the word, product, you're conveying that you want to sell to them. They want to buy, not be sold to.
Instead, suggest ideas to them such as they "deserve security" or "long-term sustainability."
5. Appeal to their emotional peace-of-mind
When it comes to money, successful people want serenity. Convey that you provide proven strategies that work even in marketplace downturns.
6. Engineer trust with your apparel
Make certain that clients feel you're treating them and their money with ultimate respect. Do it on a consistent basis.
Unless you're in a high-tech environment where suits are never worn, always wear a suit and tie.
Actually, even for casually dressed tech professionals, retailers and auto dealers, a suit and tie work best to generate trust.
I've even had car-dealer clients who actually told me that suits made them nervous, but soon they became uncomfortable if I showed up casually dressed even late on a Friday afternoon when I stopped by to drop off a document.
Better yet, make it a dark wool suit and white shirt and distinguished silk tie. That reassures your clients that you consider it a major event for you when you meet with them.
7. Demonstrate you understand human nature
Be careful with your choice of words in dealing with different demographics.
Generally speaking, males want more income. Women prefer the convenience of having more time.
Millennials typically want a work-life balance for a more enjoyable lifestyle. Baby boomers and senior citizens want to be worry-free.
8. Demonstrate your ability for a sustainable foundation
Clients want long-term success. You need to reassure clients they'll be with the long-term results.
9. Listen carefully after asking the right questions
At the appropriate times, your key questions of clients should be such as, what about their vision, their dreams, and what would be perfect situations?
10. Be careful with marketing visuals
Along with your verbiage, help your clients to visualize the benefits of doing business with you using visual aids.
Show a positive lifestyle such successful adults or a happy couple holding hands in a nice setting. Note, however, avoid using stock pictures.
And never use videos in promotional materials. In communicating financial data, don't succumb to the charm of state-of-the-art technology, especially online video.
A conservative approach is best so be careful in choosing a medium.
From the Coach's Corner, here are related strategies:
Marketing Tactics for CPA, Law Firms to Earn New Revenue — All professional service firms covet new revenue. However, it's a misnomer to think the first step is to market externally in order to attract new revenue. In reality, it's most important to think defensively like a championship football coach.
Valuable Secrets for Profitable Deal-Making with Clients — If you're in professional services or you're a consultant, many times you've heard the phrase: "Give me a proposal." Here's a better way to respond. You can be more successful with clients using deal memos. Here's how.
Consulting: Effective Management of Difficult Clients — Start with this premise: You should be focused on the continuous, improvement and performance of your firm. If you have difficult clients, here's what you can do about it.
Consultants – Helping Clients Deal with an Emotional Crisis — No matter what kind of a consulting practice you have, it's sometimes necessary to help clients deal emotionally with a business crisis. If you're a management consultant and you've branded yourself well, the clients see you as a trusted confidante and visionary.
5 Strategies to Build Trust with Clients — Tips for Consultants — The five strategies that enhance relationships between consultants and clients.
The 6 Most Important Steps for Success as a Consultant — In order to succeed as a consultant, bear in mind it's a challenging occupation. It entails a lot more than just being knowledgeable and providing good counsel.
10 Characteristics to Become an Exceptional HR Consultant — You will find success as a human resources consultant, if you develop specific qualities for trust in your profession.
"Diplomacy is the art of letting somebody else have your way."
-David Frost
 __________
Author Terry Corbell has written innumerable online business-enhancement articles, and is a business-performance consultant and profit professional. Click here to see his management services. For a complimentary chat about your business situation or to schedule him as a speaker, consultant or author, please

contact Terry

.




Photo courtesy stockimages at www.freedigitalphotos.net