Photo by Standsome Worklifestyle on Unsplash
Working from home has been a huge challenge for many people. It's not only affecting the dynamics of relationships, but also our own well-being.
Americans work a ton of hours compared to other countries, whether through overtime or just a packed schedule, it's hard not to bring work and stress back home with you.
Many people already struggled with this and now that home is where many of us work it hasn't gotten any easier.
This is why mental health experts stress the importance of having a real separation between work and leisure. If you're struggling with finding this balance, you aren't alone.
Nearly 67 percent of people who work from home don't have access to a private office space in their home, according to a survey run by Rocket Mortgage.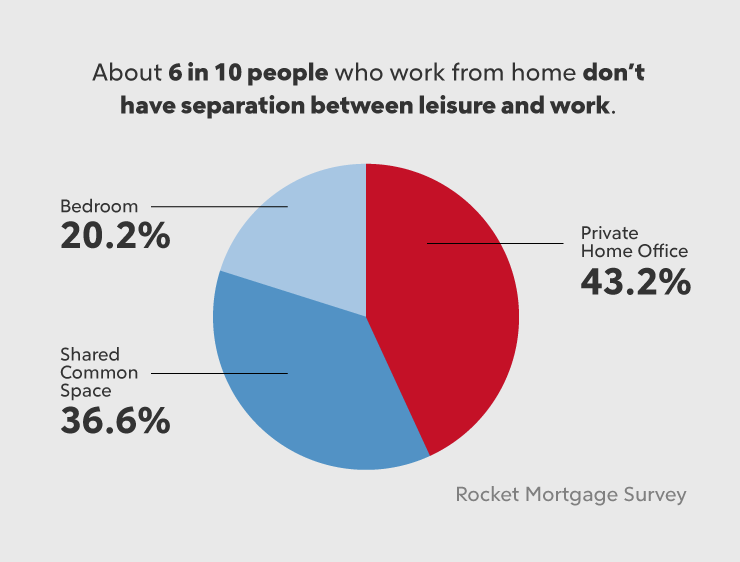 There are ways that you can combat this:
Declutter and organize your home:

A clear and organized space can help promote a healthier, less "cluttered" mindset

 
Create a separate working space:

If you don't have access to a private office, try putting up room dividers around your work station during the work day

 
Let in bright, natural light:

Natural light can help keep your

circadian rhythm

in check and keep your spirits higher while you work
Surround yourself with greenery:

Including elements of nature in your workspace can help calm you down, plants also promote productivity
Face your desk towards a nice view:

If you can, try to face your desk towards a pretty view, bonus points if you can see nature or landscaping
Find your ideal playlist or white noise:

If you're feeling down or have a mind block, throw on some music or soothing sounds  to help you get your groove back
Emulate aspects of nature:

In addition to real greenery, try adding a small water feature or art that reminds you of nature
Pay attention to air quality and temperature:

Sometimes a space that's too cold or warm can really affect your productivity, find that spot that's just right
Treat yourself to the bells and whistles:

Get a nicer chair, invest in a standing desk or other items that could dramatically improve your WFH experience
In addition to setting up your space properly, there are actions that you can take to put yourself in a better mindset. See some of those suggestions below but don't shy away from tweaking them to what works best for you.
Keep Routines Intact
In this new normal, it can be easy to let your routines fall out of whack. Instead, encourage yourself to hold on to those routines and semblances of normalcy.
Don't allow yourself to roll out of bed and go straight to your desk, or even worse, check your emails from bed. Instead, get up and get ready as you would if you had to go into the office.
Don't Skip the Commute
Similar to the point above, you should try to incorporate some sort of commute into your workdays. After getting ready, try going for a walk around the neighborhood to help shift your mindset.
Once you've finished the workday, go on another "commute" walk home. When you get back from your second commute you should make it a rule to stay away from your work station or emails.
Check-In With Yourself and Your Loved Ones
Aside from work, this current situation is difficult. Take the extra time to check in with yourself and if you need a day off, take it. Your relationships at home can play a big role in your overall stress levels.
Check-in with loved ones and take the time to spend quality time together (virtually if needed) and away from each other — everyone needs their own space but we all need connection as well. 
Those are just a couple of things you can do to support your well-being, see the visual below for more tips sourced from mental health and design experts (courtesy of Rocket Mortgage):  

From the Coach's Corner, relevant editor's picks:
Career Tips – Succeeding at Remote Work as an Introvert — If you're an introvert, you might find it difficult to speak assertively for yourself and stand out as a remote employee. Here's how to succeed.
Tips for Telecommuters to Optimize Home Internet Service — The lifestyles and careers of millions of Americans have, of course, changed as a result of the coronavirus crisis. If you're a remote worker, and if you have children at home, your home Internet service might need to be optimized. Here are five tips.
4 Tax Tips for Your Home Office Write Offs — The best tip I ever got from a CPA was to move my firm from a rented office space to my home. But it was important to understand the tax code for qualified write offs. Following are some tips, but it'd be best to double-check with your tax specialist.
Art of Persuasion: How to Get People to Actually Listen to You — Have you ever felt invisible – where people aren't listening to your viewpoints? Here are five recommendations to maximize your art of persuasion.
Boost Your Learning and Career by Improving Your Memory — If you're looking to develop your brain power to advance your career or perhaps to become a leader, having a good memory is critical. Here are 20 tips.
"I'm constantly taking calls and responding to e-mails at home, and I find it best to have that little work space. And then when you're not at that little space, it's not work anymore."
-Bobby Berk
_________
Author Terry Corbell has written innumerable online business-enhancement articles, and is a business-performance consultant and profit professional.
Click here to see his management services
. For a complimentary chat about your business situation or to schedule him as a speaker, consultant or author, please
contact Terry
.