Yes, it's become important for small businesses to capitalize on cyber strategies for profit.
Small and even regional retailers should be cognizant of three realities:
Potential customers probably think that national chains have easier-to-shop Web sites.
Big retailers have lower prices.
Until a national Internet sales tax is passed, many consumers will prefer to shop online.
So, with all retailers depending so heavily on Q4 sales to stay in the black and record numbers of shoppers continuing to buy online each Cyber Monday, year-round cyber strategies are increasingly important.
Nonetheless, a cursory search on the Internet in every sector shows many small retailers and professional service firms, especially law firms, don't have a strong Web presence.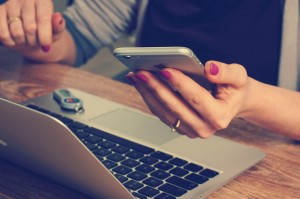 Many suffer from the following:
— Many have only simple landing pages
— Most don't have social media acumen
— Even those with Web sites are difficult to navigate
— Poor SEO (search engine optimization)
By comparison, large companies have terrific e-commerce sites and display good judgment in social media.
It's important to understand how marketing has developed in the digital age.
True, traditional media is important. But it's vital to do something about online consumer trends. A McKinsey study indicates more than four out of five Americans use the Internet to search for information or to buy products.
The Internet has given them more control over their spending with reviews, enhanced abilities for comparison shopping and for moving from an advertiser's monologue to a dialogue with prospective customers.
Small businesses must create a marketing strategy for a strong presence on Google, which has a 66 percent market share in the U.S. and 90 percent worldwide.
However, in my experience, strategies for optimizing your Web site's presence on Google also work on Bing and Yahoo.
Expertise in mobile marketing is becoming increasingly valuable for small businesses. Use of smartphones by shoppers is becoming widespread. So make sure your site is compatible for mobile marketing.
Facebook pros and cons
Not to mention the impact of social media playing a role. It's possible to make money on Facebook. There are 11 ways to do it. However, beware that Facebook can cannibalize and make losers out of small business Web sites.
Further, there are eight tools to optimize sales with social media, but beware of a red flag.
So, small businesspeople should remember that the key to Internet dominance is to think integration.
That often doesn't include advertising with daily deal sites. They don't work for substantial numbers of small businesses. Beware of daily deal sites and pricing principles. Daily deal sites actually cost companies money.
Meanwhile, the evolving Internet also means it's important to take safeguards to protect your brand's image. Poor customer reviews and public relations can kill a company.
So understand the best practices to optimize your brand and manage your Web reputation.
Success in sales depends on trust.
To build trust with Internet users, here are three key reminders:
Be transparent. List a description of your business including contact information, products, services, location and the names of company principals. That includes your telephone ID numbers for when you make outgoing calls, and disclosing your customer-service policies.
Privacy policies are necessary. If you sell online, take every security precaution, respect customer contact preferences, and don't share customer information.
Develop an online media kit. An online media kit is helpful to dialogue with advertisers, clients, customers, journalists and prospects. To make it easy for Internet users to learn about your business, explain your company using the five Ws – who, what, where, when, why and how.
Depending on your sector, there are probably other principles to heed and utilize, but these are the basics for on how small businesses can capitalize on cyber strategies for profit.
From the Coach's Corner, here are related resource links:
8 Red Flags Your Web Site is Out-of-Date (Here's What to Do) — Just like your finances, human resources and other aspects of your business, your Web site should be continuously monitored for red flags and to be sure it's not out-of date. Yes, it's time-consuming and expensive, but any problems should be solved. The trick is to do right, cost-effectively.
Google's reasoning for best Web site rankings — The world's most popular search engine has released detailed information on how it evaluates and ranks Web sites.
Checklist: 14 strategies to rock on Google — Periodic changes in Google's search criteria and algorithms have indeed hurt many Web sites. But it's possible to bullet-proof your site's prominence on Google by taking 14 precautions, which is worth your time and energy.
Why B2B Marketers Like Content Marketing – Study — B2B marketers ostensibly get a satisfying return on content marketing because that's the preferred choice for 82 percent of respondents in a survey. "Content Marketing is now a more popular marketing tactic than search marketing, public relations, events, or print/TV/radio advertising," wrote the study's authors. "Twice as many marketers now implement Content Marketing as do print, TV and radio advertising.
Blogging? Simplify Your Tech Articles for a Rosy Response — In content marketing, painting the right picture with words – simplicity as in a garden of roses – yields better results. Complex, technical pieces don't have to be monotonous. Simplicity is important if you want to reach financial decision-makers not just geeks — especially in small to medium enterprises. Here's how.
"The aim of marketing is to know and understand the customer so well the product or service fits him and sells itself."
-Peter F. Drucker
__________
Author Terry Corbell has written innumerable online business-enhancement articles, and is a business-performance consultant and profit professional.

Click here to see his management services

. For a complimentary chat about your business situation or to schedule him as a speaker, consultant or author, please

contact Terry

.